July 17, 2007
by Mario L. Limocon, Vice-Chair, FOCAS 4 (WatSan) Management Committee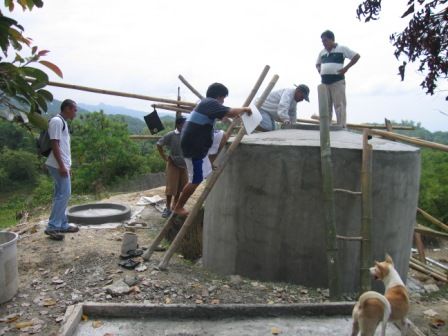 Having been chosen as one of the members to the Project Monitoring and Evaluation Team (PMET) for water and sanitation (WatSan) projects, I could not avoid rubbing shoulder to shoulder with government counterparts, mostly technical people with backgrounds in water system development. I thought at first that it would be difficult to work with them.
I had a negative regard for government performance in the implementation of projects that will truly benefit the poor. Common to our sights are "white elephant" (non-functional) water handpumps scattered along public roads by the DPWH, DILG, or provincial government and which, I was convinced, were implemented just for the sake of reporting.
Now, after one year of working with them, my views and regards towards government people have changed. I realized that there are good men and women in government who are willing and comfortable working with people in remote barangays even beyond office hours. I observed this attitude very well during our project appraisals and PME visits to project sites of the People's Fair Trade Assistance Center (PFTAC) in the towns of Batuan, Dagohoy, and Anda.
We also worked together in the project sites of the University of Bohol Community Development Foundation, Inc. (UBCDFI) in Bilar and Sevilla and of the Feed the Children – Philippines (FTCP) in island-barangays of the towns of Loon and Inabanga, where I witnessed more of their drive to be of service to the people.
I would say that they are very generous with their technical advice and ideas on how those constructions could be better improved. I appreciate their endurance and energy in trekking through muddy and grassy carabao trails, usually along contours winding to the hilltop where the collection tank is constructed.
I could remember very well Mr. Felix Mahinay (now retired) of the Provincial Planning & Development Office (PPDO) who had a fever but was able to hike for six kilometers back and forth from where our service vehicle was parked just to reach the barangay center of Villa Aurora in Dagohoy town. That excludes our walk to the water source. Although he made it, he was not able to join us the next day.
I salute Engr. Eleuterio Rabuya Jr. of the General Services Office (GSO), representing the Bohol Integrated Water Resource Management Team (BIWRMT); the DPWH technical staff, namely, Engr. Edgar Bonite, Engr. Gorgonia Bernido, and Engr. Emmie Bernaldez; Engr. Jessica Morigo of the Central Visayas State College of Agriculture, Forestry & Technology (CVSCAFT); and other LGU and NGO partners in FOCAS 4.
I could see their commitment and dedication to helping people realize their dreams. Oftentimes, our departure took place early morning at our assembly area in Plaza Rizal in front of the Provincial Capitol in Tagbilaran City and, at dusk, we would take the long trip back home. Yet, I did not hear any complaints from them, even if their skins got hurt by weeds along the way, their shirts wet or their trousers dirty with mud and, in that condition, to have to come home late at night.
The more we work together, the more we come to know each other and the closer we are in our struggle for a common purpose that is to provide access to poor communities with water and sanitation facilities. I have realized that we are one towards improving the plight of our fellow Boholanos, particularly in the 17 priority municipalities of Bohol.
Thanks to the Focused Community Assistance Scheme (FOCAS) of the Philippines-Australia Community Assistance Program (PACAP) of the Australian Agency for International Development (AusAID) for making this collaboration happen. If not for the funding support and the approach it requires, we would have difficult time to establish harmonious working relationship with stakeholders, especially from the government side.