May 15, 2009
By: Mr. Jovenal Edquilag (MBEMO Executive Director)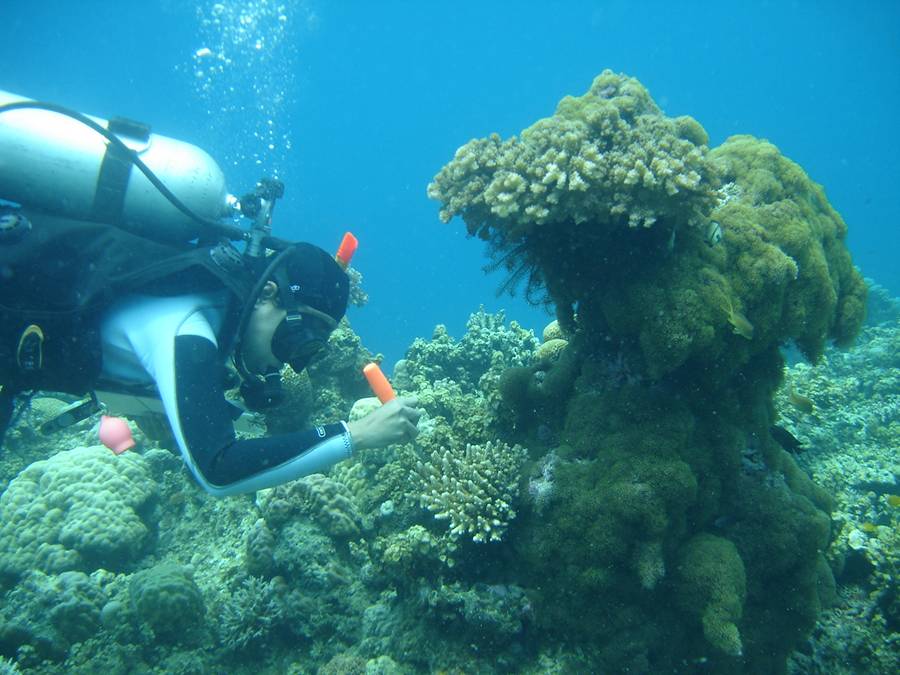 A GROUP OF RESEARCHERS finished their two-month study on the reproductive status of a coral species at the reefs in Sapaw area, Mabaw and Manga marine sanctuaries, all in Tagbilaran City, and part of Maribojoc Bay on Wednesday last week. Maribojoc Bay is the biggest bay in the province of Bohol that serves as one of the major fishing grounds of the small fishermen.
The research team comprised of Dr. Alasdair Edwards of the University of Newcastle, United Kingdom; Dr. James Guest of the National University of Singapore, Singapore; Dr. Romeo Dizon, Ms. Kareen Vicentuan Cabaitan, Patrick Cabaitan and Robert Lambayan of the University of the Philippines-Marine Science Institute.
They conducted the research from March 6 to May 6.They observe samples of 18 species including Acropora cytherea, A. hyacinthus, A. humilis, A. valida, A. muricata, A. sarmentosa, A. millepora, A. anthocercis and A. tenius.
Preliminary results showed that of the 201 total sampled colonies, two of unknown species are suggested to spawn in April. Another 11 colonies that included A. humilis, A. cytheria, A. tenius and A. spp. have already contained white eggs which are expected to spawn in April or May.
Some of the sampled coral species contained no visible eggs, suggesting that these will spawn from May to June. Typically the colony will spawn after the next full moon.
Coral colonies will spawn when eggs become pigmented which usually occur during a period of about three to ten days following the full moon, although timing can vary considerably from one site to another. Normally, most spawning activities happen within three hours after sunset, between 6:30 pm and 9:30 pm.
The research study aimed to determine any similarity on coral mass spawning of the coral reefs in Maribojoc Bay to the coral reefs in Bolinao, Pangasinan. The study on coral reproduction status is crucial for the component local government units in the aspect of policy-making process and the development of management mechanisms that will lead to the restoration of degraded coral habitats along Maribojoc Bay.
The research is in coordination with the City Government of Tagbilaran, Bohol Environment Management Office (BEMO), PROCESS-Bohol, Incorporated and the Maribojoc Bay Executive Management Office (MBEMO).
The UP-based Global Environment Facility-Coral Reef Targeted Research (GEF-CRTR) does research on coral reef restoration techniques and coral reproduction at sites around the Philippines.
As part of the project, the UP-based research group has foreign collaborators, local students and researchers who have been doing research on the timing and synchrony of spawning in corals around Bolinao, Pangasinan, according to UP Professor Emeritus Edgardo Gomez, coordinator of GEF Southeast Asia Center of Exellence.
He said in 2006 and 2007, their group witnessed the mass spawning of corals near Bolinao during March, April, May and June.So they would like to compare if the same timing of spawning happens elsewhere in the Philippines and they have chosen the reefs around Tagbilaran City as potential sites for this purpose.