March 2, 2010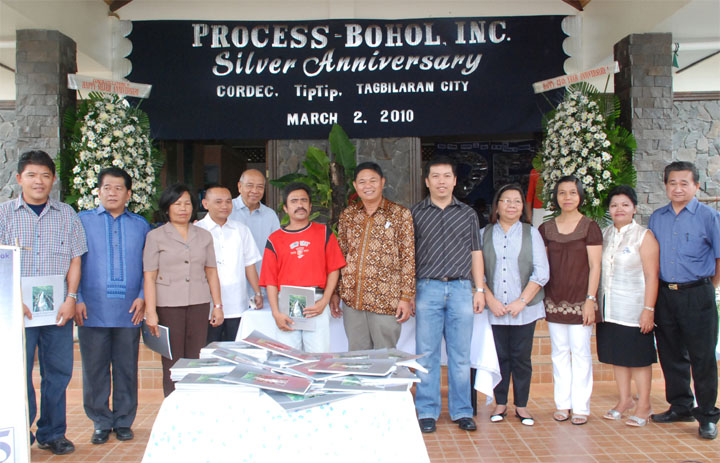 PROCESS-Bohol marked its 25th Anniversary on March 2, highlighted by the launching of the coffee table book entitled,"Journeys to Empowerment: PROCESS-Bohol at 25", streamlining PROCESS' best practices, milestones and effective development approaches. The said book is inspired by the staff's praiseworthy on-site experiences working with various sectors in the society which started in the municipality of Tubigon in 1985.
Since the start of PROCESS operations, a total of 172 people's organizations from marginalized sectors of women, fishers and farmers in Bohol were organized, and most of them are now actively involved in decision making process. The organization's community organizing has been hastened through the creation of the Makusganong Kapunongan sa mga Gagmay'ng Mananagat sa (MAKAMASA)-Bohol, a group of small fishermen and the Pagkahiusa sa mga Inahang Nagpakabana sa (PAGKAINA)-Bohol, a provincial federation of women organizations.
Believing that development work is a realm of multiple agents, PROCESS deeply acknowledged strong partnership with the local government units and other equally important sectors. It initiated the formation of the Maribojoc Bay Resource Management Board, Abatan River Development Management Council and other working councils playing a critical role in environmental conservation and management. Moreover, PROCESS has become an active member of different governance councils namely: Bohol Coastal Resource Management Task Force, the Bohol Rescue Unit for Marine Mammals, and the Bohol Integrated Water Resource Management Board, among others.  It was also a prime mover in the organizing of two alliances of development stakeholders – the Bohol Alliance of Non-Government Organizations (BANGON), and the Bohol United Sectors Working for the Advancement of Community Concerns (BUSWACC).  Last 2007, PROCESS- Bohol went beyond Bohol and reached out to Region 8, to the municipality of Malitbog, Southern Leyte.
Because of these meaningful engagements, PROCESS signed contracts for funding and technical assistance with the thirty-six (36) national and international donors agencies within the last 25 years. These include Oxfam NOVIB, PACAP-AusAid, Foundation for Philippine Environment (FPE), Australian Centre for International Agricultural Research (ACIAR), Partnership for Appropriate Technology on Health (PATH) Foundation, Heifer Philippines International (HPI), Peace and Equity Foundation (PEF), Evelio B. Javier Foundatio, Action for Economic Reforms (AER),   German Development Service, Research Triangle Institute (RTI) International,  Lihok Pilipina, PHILDHRRA- Visayas, and SEAFish for Justice, to name a few.
The silver anniversary celebration was also a gathering of all staff and the Board of Trustees, partner POs, LGUs and funding agencies who have contributed PROCESS' growth and development. The momentous event was held at PROCESS Community Resource Development Center, Tiptip District, Tagbilaran City, which was graced by no less than Hon. Edgar M. Chatto and Atty. Jose Ventura Aspiras, representing the Board of Trustees from PROCESS-Manila.