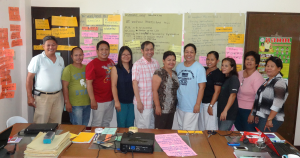 PROCESS-Bohol had just finished the review of its Strategic Plan on June 10-11 at the foundation's Community Resource Development Center in Tiptip, Tagbilaran City. The activity was facilitated by Norman Joseph Jiao, executive director of the Association of Foundations, Inc. based in Quezon City. It was participated in by nine staff from the operations, administration and finance sections led by its executive director Ms. Emilia Roslinda.
The two-day activity gave them the opportunity to look back and revisit its strategic plan, vision, mission, core values and principles. It also gave the team the chance to reflect on their personal commitment and values as they work towards the development of the different sectors in the province of Bohol particularly the fisherfolk, farmers, women and children. More importantly, the activity allowed the team to identify programs, strategic goals and key results as PROCESSBohol moves forward.
While values are embedded in the vision and mission, the team realized that it is essential to identify and define their core values which will guide them in attaining the organization's vision and carrying out their mission for their beneficiaries in partnership with the different sectors in the province.
The foundation also identified its primary stakeholders and key result areas as it prepares to focus on its core programs:  capacity building, enterprise development and natural resource management towards the attainment of its vision of, "improved quality of life of poor communities, particularly those of farmers and fishers who are God-loving, gender-sensitive and empowered, living in a healthy, just and equitable environment".